How to Prepare Appetizing Thai Beef Salad
Thai Beef Salad.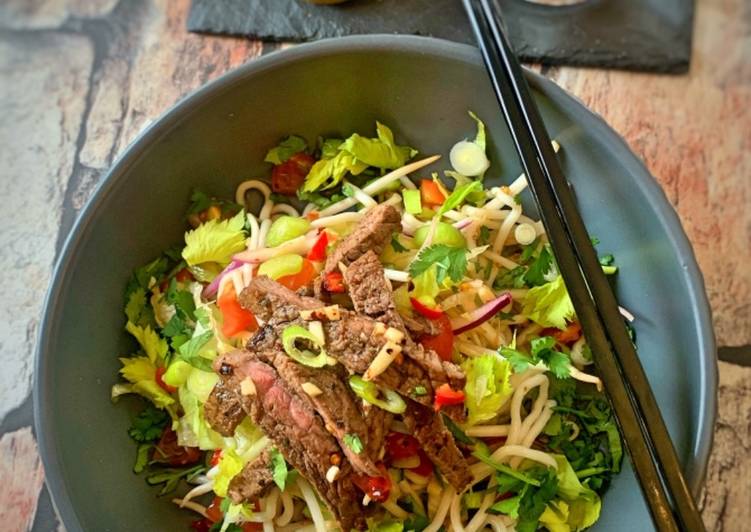 You can have Thai Beef Salad using 24 ingredients and 5 steps. Here is how you achieve it.
Ingredients of Thai Beef Salad
You need 1 piece of rump steak.
Prepare 1 tbsp of cooking oil.
Prepare 1 tbsp of fish sauce.
It's of Good sprinkling of black pepper.
It's of Chilli flakes a sprinkling depends on how hot you like it.
You need of For the salad.
You need of Baby gem lettuce finely shredded.
It's Handful of cherry tomatoes quartered.
It's of Celery stick sliced, keep the leaves for garnish.
It's Handful of bean sprouts.
It's Half of a cucumber sliced seeds removed.
Prepare 1 of red onion finely sliced.
It's 3 of spring onions sliced.
It's Handful of cooked noodles.
Prepare Handful of chopped fresh coriander.
You need of The Sauce.
You need 2 tbsp of brown sugar.
Prepare of Juice of a large lemon or preferably a lime.
It's of Chilli flakes to your taste.
Prepare of Fresh Birdseye chillis sliced finely to your taste.
You need 2 cloves of garlic finely diced.
Prepare of Large splash of fish sauce.
Prepare 1-2 tsp of grounded toasted rice, optional (2 tbsp of jasmine rice toasted on the pan until golden brown then blend it in the herb grinder).
You need of Optional tsp of chilli jam.
Thai Beef Salad instructions
First of all prepare the steak, rub on the fish sauce, chilli flakes a oil! Leave to marinate, it can be left over night for an even better flavour..
Whilst the steak is marinating, chop up all the salad veggies, warm through some noodles in hot water, being careful not to over cook them, then drain and leave to cook. Put all the salad into a large bowl, then add the noodles once there cooled..
Make the sauce, squeeze the lemon or lime into a bowl, add fresh chilli and dried chilli flakes, garlic, chilli jam, sugar and fish sauce! Give it a good stir so the sugar dissolves! If you have the ground rice put in a heaped tea spoon! If you can add the rice as it gives it a lovely nutty flavour..
Literally it's time to assemble! Add a few teaspoons of the sauce to the salad, mix in well so it coats all the ingredients! Now place into bowls!.
Now heat a griddle on a high heat! Throw on the steak searing well on each side, depending on how you like your steak cooked! Lift out let it rest, then slice and place the sliced beef onto the salad, then spoon over some more sauce, and garnish!! Tuck in and enjoy 😊.